Reflections in time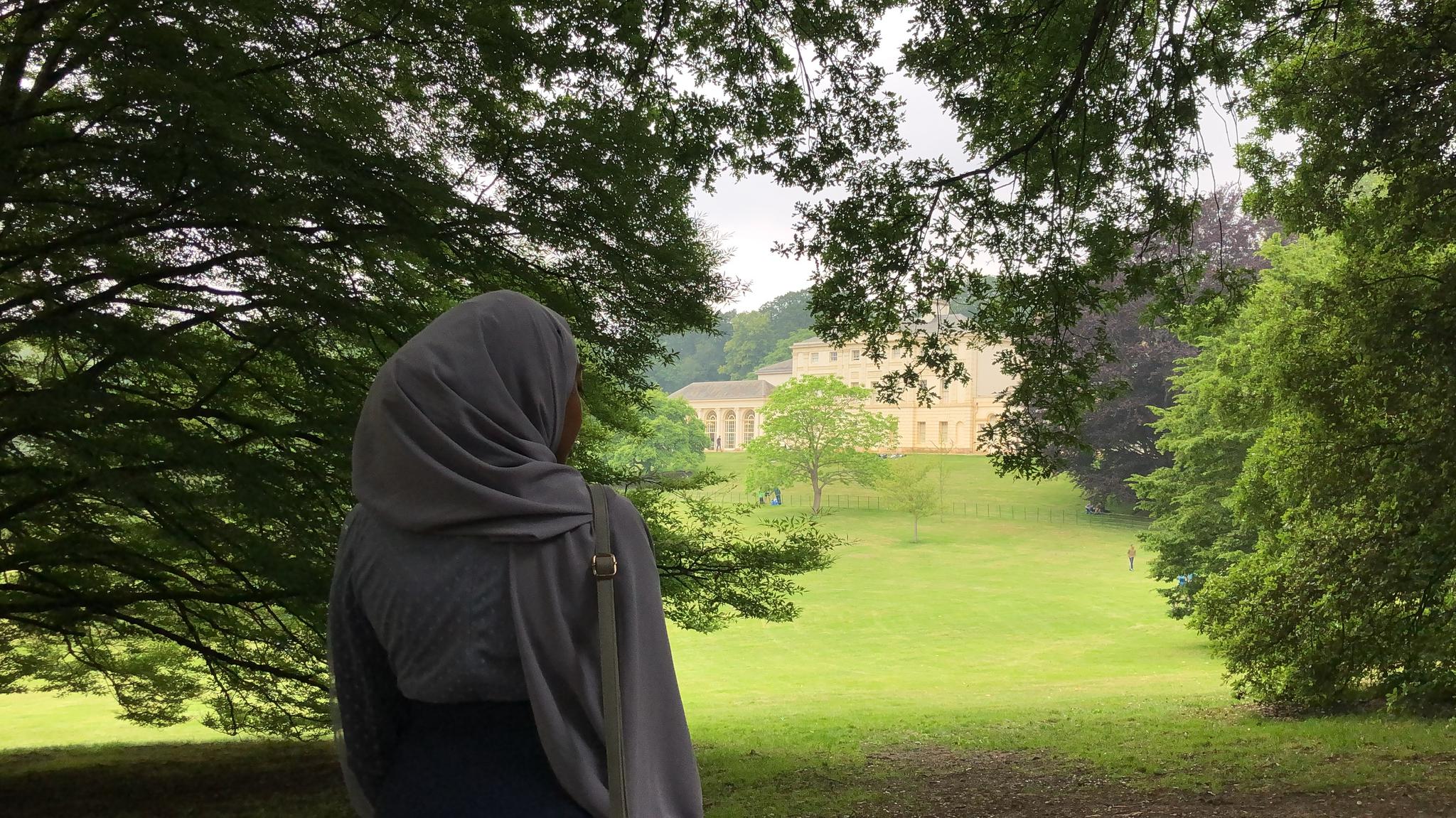 Dido Elizabeth Belle. A number of young women's first experience in recognising a person that resembles them in the 18th century, this time not as a slave. An icon who perhaps did not know what her existence would mean one day, a close representation of how it should have been.

But who was she?

Dido Elizabeth Belle was a British heiress born to Maria Bella and Sir John Lindsay in 1761. Her mother who had previously been a slave was of African descent and her father was a British career naval officer. When Dido's mother died at the age of six, her father claimed her and returned to his family home at Kenwood House in Hampstead. Dido was raised by her fathers uncle William Murray, the 1st Earl of Mansfield. She was brought up alongside her second cousin Elizabeth Murray, of whom she was incredibly closed to.
As Lord Chief Justice, Mansfield before his death took steps to abolishing slavery, and in 1772 ruled that slavery had no place in common law within Britain. The Somerset vs Steward case was a ruling of the English, stating that the right of an enslaved person on English soil would not be forcibly removed from the country and sent to Jamaica for sale. Lord Mansfield decided that:
The state of slavery is of such a nature that it is incapable of being introduced on any reasons, moral or political; but only by positive law, which preserves its force long after the reasons, occasions, and time itself from whence it was created, is erased from memory: it's so odious, that nothing can be suffered to support it, but positive law. Whatever inconveniences, therefore, may follow from the decision, I cannot say this case is allowed or approved by the law of England; and therefore the black must be discharged.


On 28 August 1833, the Act to abolish slavery was given Royal Assent. Its full bill title was the following:
An Act for the Abolition of Slavery throughout the British Colonies; for promoting the Industry of the manumitted Slaves; and for compensating the Persons hitherto entitled to the Services of such Slaves
The Act received royal assent on 28 August 1833 but did not come into force until 1 August 1834 when the first step was to free all children under six. Enslaved people in the British Caribbean gained their freedom at midnight on 31 July 1838. This marked the beginning of the end of official slavery in Britain and it is believed that Belle influenced his views.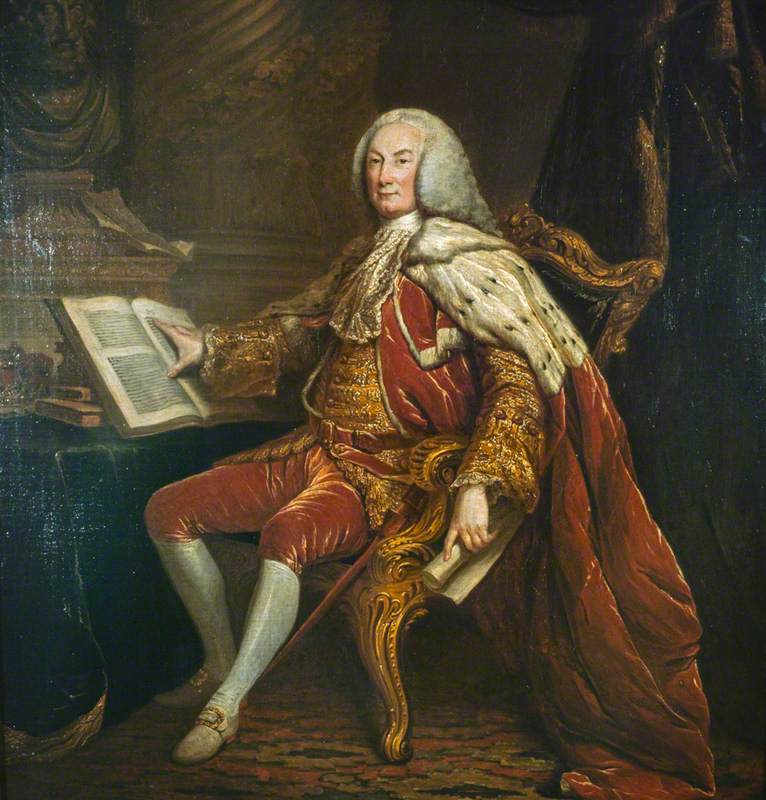 Dido Belle's life was retold by British director Amma Asante and producer Damian Jones in the film 'Belle', released in the UK on 13th June 2014. The cast included Gugu Mbatha-Raw who took up the role as her first period drama and Oscar nominees Tom Wilkinson and Emily Watson, Sam Reid and Sarah Gadon.

According to The Guardian, 'Amma Asante's powerful, moving and gently subversive romantic melodrama is a finely wrought tale of a woman out of time, a film that plays eloquently upon the heartstrings as it interweaves familiar personal intrigue with stirring social history. Intelligently combining the enticing pleasures of a ripe costume drama with the still shameful legacy and lessons of the slave trade, Belledresses its entryist agendas in the fashionable finery of a multiplex crowd-pleaser. The result is a handsomely mounted and emotionally engaging drama that smartly examines issues of race, class and gender while leaving nary a dry eye in the house.'


Dido and Elizabeth are famously known from a portrait painted of them supposedly by artist, Johann Zoffany. This historical piece is the only portrait of Dido, showing her standing beside her cousin on the terrace at Kenwood. Until the 1990s, the painting was known as 'The Lady Elizabeth Murray' and the identity of Belle wasn't known. The painting is fascinating because it has unanswered questions attached it, such as: why is Dido pointing to her face? And why does her attire differ so much in contrast to her cousins?

Dido Elizabeth Belle beside her cousin Lady Elizabeth Murray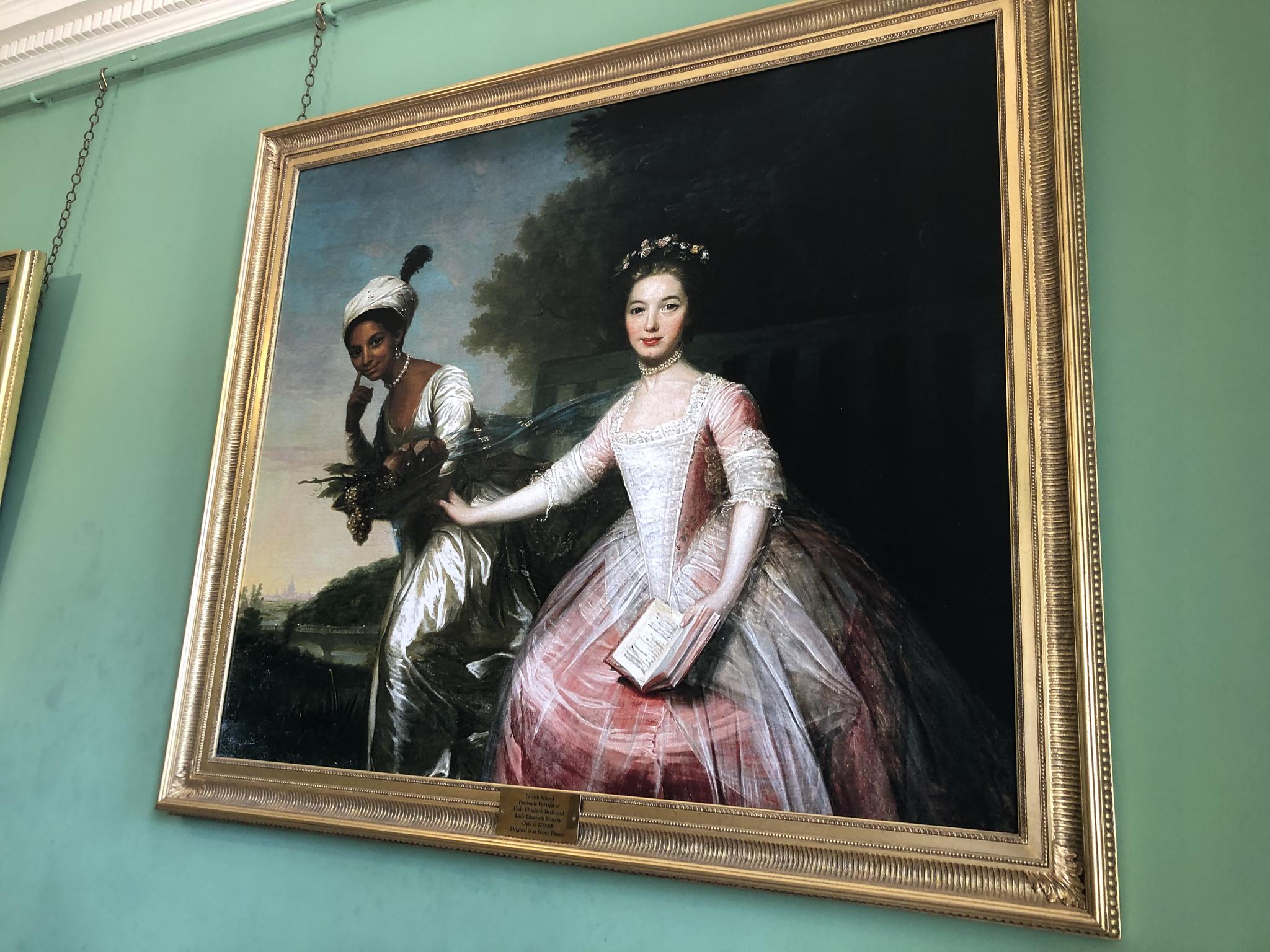 Dido is wearing what appears to be a silk gown with a blue scarf resembling a sari. In comparison to her cousins somewhat traditional attire, Dido's outfit is undoubtedly intended to stand out, perhaps this making more of a statement than her skin colour. The feathered turban on her head and exotic fruits cradled in one arm is contrasted to her cousin Elizabeth's book and flower wreath she wears. Both ladies are seen to represent two entirely different worlds whilst stood side by side.

Such representation is rarely seen hanging on the walls of museums or manor houses in today's society. So how would it feel coming across a portrait of someone who resembles you - this time not looking upward at a white master, but outward, pointing to her face as if to say, "I am black, and I am beautiful."

What did being black then mean, and what does it mean now? What lies between what is misunderstood and the simple understanding of equality?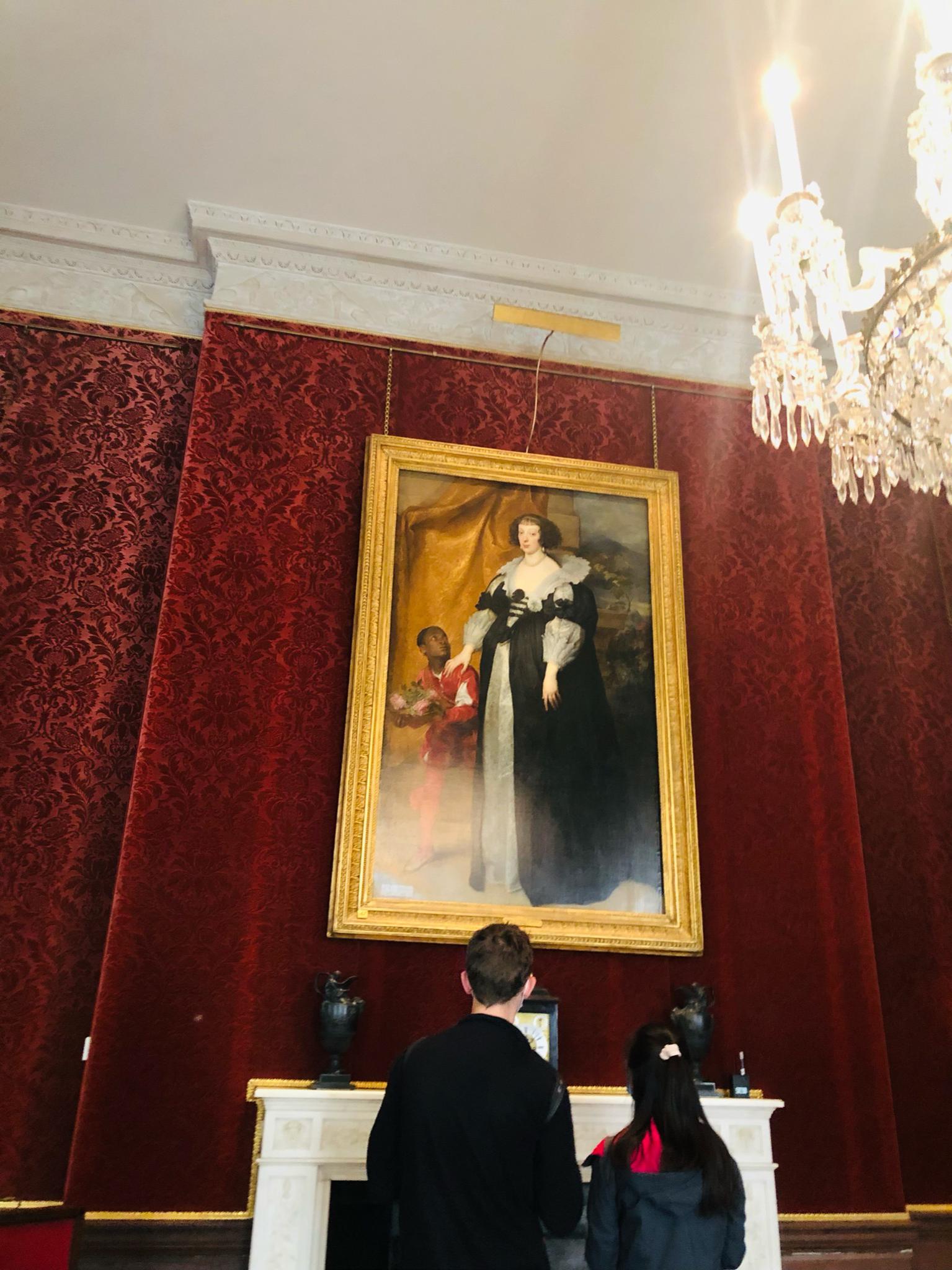 I conducted an interview with Aaliyah Tucker who first heard about Dido from the film Belle (2013). I was interested in hearing a firsthand experience of visiting Dido's home, Kenwood House.

How did you first hear about Dido Elizabeth?
Well through you actually! You recommended I watch the film Belle and told me how it was based on a true story. The genre aligned with what we typically relate to together so of course I watched it and it was one of those things where you didn't realise what was missing until you saw it. Seeing a black person set in this period was super enlightening and refreshing.
Are you generally interested in period dramas?
Yes, I couldn't say why but I love the charm that is presented in that genre, I grew up reading the classics like Little Women and Jane Eyre so it was a big part of my childhood and I still love it. However retrospectively it is heavily.
How did it make you feel not seeing as much representation in these dramas in the past?
I honestly never really noticed until I would see shows where the black people were playing the slaves and such and then it served as a reminder. In the sense that although it's fiction, it is representing a very glossed over version of the society excluding the rife racism and xenophobia that would have also been present.
4) What were you expecting from your visit to Kenwood House?
Well, after watching the film 'Belle' I expected there to be a heavy focus on her legacy in the house. Perhaps some discussion of the slave trade at the time, how and why she was different and what impact if any that had on the society at the time.
5) What was it really like?
Absolutely nothing like what I presumed, it was a beautiful house but very little homage to Elizabeth which I found surprising as I assumed it would be a slightly bigger deal. I think Britain gets away with distancing themselves from their colonial past and present by never mentioning it and allowing for it to erase itself and that theme was felt strongly at the house. The famous portrait was not even in the main house - it was off to the side and easily missed unless you were explicitly looking for it.
There was also a more recent portrait of Dido centerstage in the library that was cordoned off at the time, but despite the portrait being centre stage, I knew who it was because of the whole reason we had come to visit the house. But otherwise, there was no explanation that I remember seeing describing her life accomplishments or even who she was in that room.
6) How did you feel this mixed race woman was represented in her previous home?
In my opinion, I felt in the instances where she was presented she was shown strikingly authentically and it was quite powerful. She was not white washed; things like her hair, skin tone and clothing seemed very authentic and her presence was there for those who looked. I personally feel that the British need to become more accustomed and proactive about facing and accepting the huge role they had in slavery and colonialism. It shouldn't be the case that if you so happen to have an interest in the British history of slavery and colonialism then you may find some hints of it in the house.

It should have been more of a focal point that forces everyone who enters to be confronted with the reality of what the empire really was. I mean a huge issue I found was the lack of diversity even within the staff, and an incident where a staff member was discussing the famous painting referred to Elizabeth as "that woman", considering the huge historical events that related to her background. I felt it was disrespectful and diminishing of the experience of Dido and the history of the building.
How did your experience make you feel within your own identity?
I had never deeply thought about my identity as a mixed race woman in England until recently and growing up in a very diverse area of London, it's not something I'm confronted with. But the experience highlighted to me the true reality of the dark history of Britain and the unfortunate reality that it has a long way to go in dealing with racism. Acknowledging that racism was unfortunately a cornerstone of historical British society and the role it played in the state of the world today is so important.
The reality that colonialism is not behind us exists and Britain still reaps the rewards of its crimes. You can't treat an issue if it remains undiagnosed and unfortunately racism in Britain is a mole that the white British populace are choosing to ignore. But within myself, it reminded me that I did have a place in Britain and my place is a result of the work and sacrifices made by so many women before me. Just because we don't learn about these powerful and successful women of colour in normal British history does not mean they didn't exist and I'm excited to learn more about those untold and hidden stories that are often forgotten and overlooked.
Why do you think correct representation is important for young girls like yourself?
I think it's hugely important for girls to grow up with a sense of belonging. With that comfort comes the ability to grow and explore in any way they desire without their own subtle inhibitions holding them back. If all you have as people and characters to look up to are white, that gets internalised from a young age and I feel like it leads to things like imposter syndrome and limiting beliefs as they grow up. Because they can never be white so there will always be a subtle line of differentiation.
We stand on the shoulders of those before us and as much as it is great to be "the first," in certain spaces I feel there is much more comfort and confidence in being able to stand and gain strength from those who look like you who paved the way.
9) What improvements do you feel need to be made?
I feel like Kenwood house is a beautiful gallery as it stands but there is much room to incorporate teaching points and important historical context to the house and its notable inhabitants. I also think there needs to be more diversity in the staff but that is neither here nor there but poc who are passionate about the history of the house would give it more life.